Rick And Morty - A Way Back Home [v1.8.4f] [Ferdafs]
Ferdafs is creating Adult Games, Animation, Drawings!
NFO
Updated:
31-January-2019
Genre:
Male Protagonist, 2dcg, Parody, Urination, blackmail, Voyeurism, Incest
Censorship:
None
Developer/Publisher:
Ferdafs
Version:
1.8.4f
OS:
Windows
Language:
English
Size:
350 MB (Unpacked 2.42 GB)
Description:
You play as Morty and get to explore the town and meet the residence, establishing relationships as you go.​
Change Log v1.8.4f
Beth Scenes -
Two seperate night crawling scenes. Go to bed early and Beth will sneak into Morty's room and some things will happen while Morty is sleeping.
Art Class - Take sexy pictures together for a chance to win a fabulous prize! (In this case a matress) So Morty and Beth take some sexy pictures in her bedroom. Nothing really happens, just some sexy Beth in lingerie.
So in total you'll get 3 new scenes with Beth, so she got the most attention this update.
Summer Scene - More blowjob practice. Going a little further Summer will give an actual blowjob to Morty but he'll have a condom on. She'll kind of use her boobs too.
So only 1 new scene with Summer.
Morticia Scene -
The actual Motricia content is very small. It begins with Morty going to that pawn shop (Developer sneaks in a Pawn Stars reference and I love it lmao) in space and Morty haggles for that sex bot (Gwendolyn). Morty of course has sex with it as soon as he gets home and to his room. Morticia is outside the door, masturbating to what she is hearing (Not animated). Sex bot flies out of the room when Morty is finished and the two start chasing after it, saying they will have to go to Gazorpazorp planet. You don't get to go to Gazorpazorp planet this patch though so..(To be continued next patch)
So I don't really know if I should say Motricia got a scene, it's mostly the sex bot you see, Morticia didn't get much love this update.
Tricia Scene -
Her scene doesn't involve Morty. Basically Morty still wants help with Jessica and Tricia says she can try to get the teacher to switch lab partners so Morty can be paired with Jessica. Asks Morty if he wants her to just try her luck with flirting with the teacher or force her to do whatever it takes. I can't tell you what happens if you choose the whatever it takes options as I am not a fan of that kind of route but if you choose flirting you'll make her feel special and appreciated. You also get to peek in on her flirting, seeing some panties and clevage.
So only 1 new scene with Tricia.
Jessica Scene -
Once you become her lab partner an accident happens and she drops a vial of liquid onto her shirt. She tells Morty she wants to get cleaned up but the only option is to use the men's showers at the school so she has him stand guard. While she is showering Morty takes a whiff of Jessica's panties and towards the end of the scene he peeks on Jessica in the shower.
1 Jessica Scene.
Other Details -
Other little things I noticed what this update brought was additional locations, specifically space travel. You can't go to these locations yet (aside from the Pawn Shop for Motricia's scene) but the other two locations are the Gazorpazorp and Blips and Chitz.
Screen: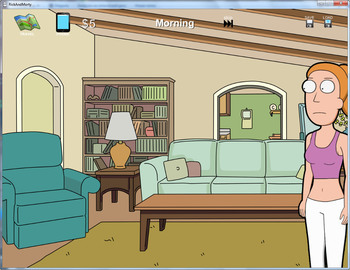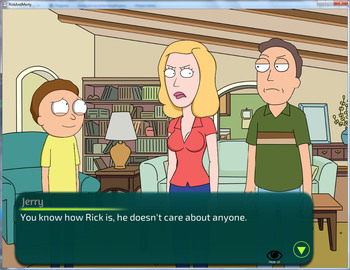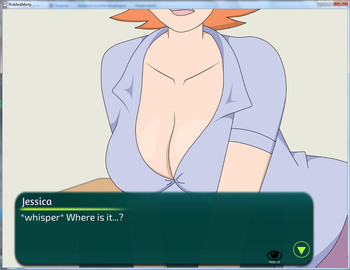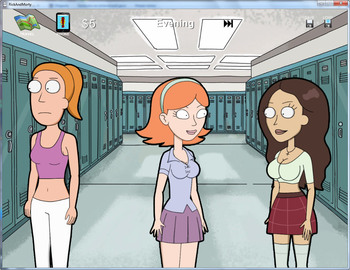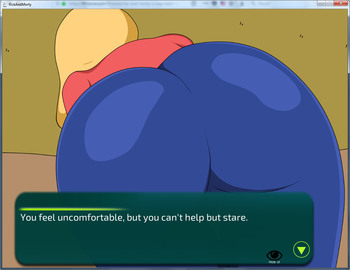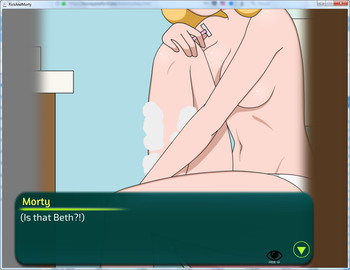 Rick_And_Morty-A_Way_Back_Home_v1.8.4f.rar
Rick_And_Morty-A_Way_Back_Home_v1.8.4f.rar